Last week I was in Boston. I flew out of Buffalo because it was a signifigant cost savings over flying out of the most expensive airport in the world.
After a nice three days of relaxing, we were waiting for our return flight at the airport. I was keeping a close eye on the US Airways website for the flight status, and ADDS. I hit reload on the website and it told me that the flight was canceled! I took a look at the METAR for KBUF and saw this:
KBUF 072002Z 02011KT 1/4SM R23/1800V2400FT SN FZFG BKN005 OVC011 M02/M03 A3007 RMK AO2 P0001
Can anyone tell me why, based on the METAR alone, the flight was canceled? Assume the airport is open. :)
In anycase, I ended up renting a car with two college students trying to get back to Buffalo for "spring break". I did all the driving :) They paid for half the car and gas.
I didn't go flying this weekend because I was busy doing this on both Saturday and Sunday: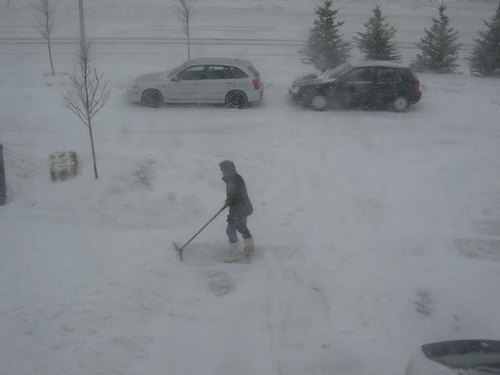 This was the latest communique from the CFI at Toronto Airways:
Efective April 10, 2008 Air Traffic Contol will be changing some instruction phraseology to be more in line with ICAO standards. These changes will be reflected in the next update of the AIM manual.

The term " TAXI TO POSITION" or "TAXI TO POSITION AND WAIT" will no longer be used.

The new terms replacing this are:

"LINE UP" or "LINE UP AND WAIT"

This is not a takeoff clearance but only an instruction to line up on the runway and wait for a takeoff clearance.
AIC 9/08 Outlines all of the details, including a cool chart that shows the different (proposed) phraseology between ICAO, Canada, and the United States:

AIC 8/08 outlines some new phraseology that will help avoid confusion amongst similar call signs. In essence, ATC might state the "radiotelephony designator" after a similar call sign. For example, say there are two flights Westjet 813, and Jazz 8813. ATC will start calling you like this:
"westjet eight one three westjet"
or
"jazz eight eight one three jazz"
They do have another option as well, that is to use the civil registration for the aircraft with similar flight numbers. Especially if it is the same company. For example Jazz 318 and Jazz 818 might be:
"jazz eight one eight"
and
"jazz november delta"
There are a lot more goodies in the recent AICs that have been published that I urge you to check out. Including OCAS (Obstacle Collision Avoidance System) whereby a series of lights and even radio transmissions are automatically activated when an aircraft gets too close to an obstacle.
There is also information about new codes you might see in a TAF.
I really wish they would "push" this information to you, either via regular mail, or electronically using an RSS feed or better yet, an email.