I was originally planning on going on a night flight tonight to Welland Airport but things went downhill ever since I left work.
I wont go into details, but suffice it to say I didn't end up going because I wasn't mentally prepared for a flight.
I did, however, decide to finally mount some of my early flying photos into a frame to start displaying in my office at home. In this frame I have the obligatory "you've gone solo!" shot, my student permit, and an interior shot of the 172.
I plan on displaying each phase of my flying accomplishments and have them progress along my wall.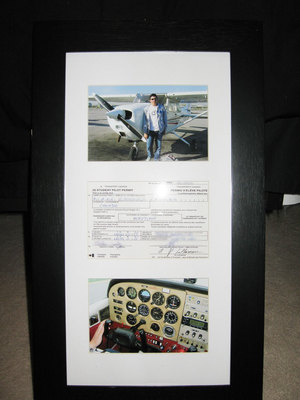 I have two lessons booked in the Seminole on Saturday. It will be the last two lessons with my FI as he got a "real flying job". No worries, there is another instructor at the school who teaches the multi conversion so my training wont be interrupted.
I have a lot of posts lined up, both technical and non. I'm saving them for a rainy day.