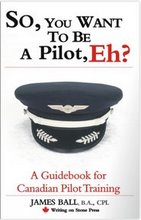 Title: So You Want To Be A Pilot, Eh?
Author: James Ball
ISBN: 9780978130916
Size: 216 Pages
Rating: 4 out of 5.
Although I'm already a pilot, I thought it would be interesting to read this book — just to see if I would learn anything new. Guess what, I did!
The book covers all the topics and frequently asked questions people have about being a pilot, specifically for Canadians. It goes over, in detail, things like getting your medical, the PPL exam, and all the other ratings you can get.
There is a perfect balance of information. "Both" sides are represented. Reasons TO and reasons TO NOT be a pilot are fully explored.
One of the sections that was most interesting to me were the Appendices. This is the *only* location I know of where you can see a sample resume of a pilot. Along with sample interview questions asked by Air Canada and WesJet. Sure you can get these elsewhere, but they usually charge an arm and a leg for them.
There is some great advice with regards to your training and what to do and not do. The author also talks about The Webster Trophy, something I have never heard of until now. Tips on how to find your first job were also helpful to me.
There is even a few cameo appearances giving advice in the book.
All in all I suggest that every wanna-be pilot read this book so that they can get a better feel for what it REALLY is to be a pilot. If you aren't discouraged by what you read here, then you truly are meant to be a pilot.
Two things I want to ad: This book as a facebook group, as well as it's own blog. Check them out!