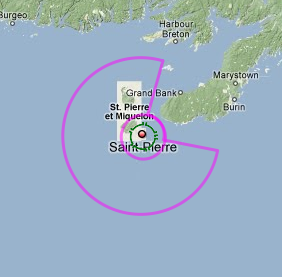 Does anyone know if the airspace around LFVP is managed by NavCanada or Frances' Air Traffic Controllers?
For those of you who don't know. Saint Pierre and Miquelon is a French territory off the coast of Newfoundland.
The reason why I ask is because the airspace appears in the Transport Canada Designated Airspace Handbook. Even though it's technically a separate country, it is in Canadian Domestic Airspace and thus appears in the Handbook.
There are two pieces of airspace. First, the Class "D" control zone (in green) and then the Class "D" (inner ring) and Class "E" (outer ring) terminal control areas.