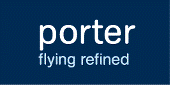 I had the pleasure of flying to Boston via Porter this past weekend. One of the best birthday presents ever! Thanks Sara!
We decided to take public transit all the way down to the Airport. Tip for those who live in Toronto: Catch the free Porter shuttle at the Royal York hotel, it's much faster.
We checked in with a minimal of fuss before we hopped on the (ridiculous) ferry. It took us about 10 min to get through security. I put the blame on CATSA for that and not Porter. They had two screening areas but were only using one.
We helped our self to the free coffee/tea and snacks in the Porter lounge. They put a boarding time on our boarding pass which is pretty much useless. All the gates are accessible by the lounge. So you just chill there and wait for them to call you up for your flight.
Our flight was scheduled to leave at 9am. We didn't end up boarding until 9am, however we were in the air by 9:10.
When we saw the Q400 up close, Sara said: "Wow, you could fly this plane!". I totally agreed. I noted that the wheel to eye height couldn't have been more than 12 feet. It's just like flying a bigger, heaver Seminole, with the exception of being a turboprop (apologies for the Q400 pilots out there!).
After waiting for a few C172s to take off from 26 we departed. I was impressed at the climb rate and how short the take-off roll was.
I had a window seat in row 5, so I was able to see the prop, wings and some of the flaps up close. We were picking up some very, very light rime icing on our way down to Boston. It was neat seeing the boots inflate every so often to shed what little ice was on the wings and the engine air intake.
The service was good. It's amazing how better it is to drink beer out of a real glass, and not a crappy plastic one. I thoroughly enjoyed what seemed like a bottomless glass of Steam Whistle beer. They give out 500ML cans! The legroom was noticeably longer, and the leather seats were comfortable. One issue I did notice was with the temperature of the tea that I ordered. The mugs were extremely cold (most likely from being outside) so when the hot tea was poured into the mug, it was cooled quite a bit.
I did found the aircraft to be loud but not from the props. The air conditioning system (at least at the front of the aircraft) was extremely loud.
I love Porter and everything they stand for. It's a great airline and I'm glad to see that they are expanding their service to: Timmins, Sudbury, Sault Ste. Marie, Detroit, Windsor, Cincinnati, Cleveland, Pittsburgh, Washington DC, and Philadelphia in the near future!