It's been awhile since I've gone flying. So a few weeks ago I decided to take Sara up to Collingwood.
The weather was perfect, clear skies and not too hot. My flight plan had me heading to Collingwood via the Mans VOR (YMS). I was going to use VOR tracking only to get to/from Collingwood.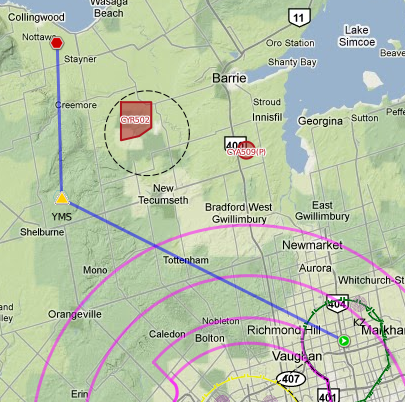 My VOR tracking was a little rusty on the way there. Mainly because I didn't calculate any wind correction in my headings so I kept on "chasing the needle" every time I noticed it drifting away.
My landing was a little rough too… what can I say? It's been 3 months since I flew the last time.
Sara and I had some lunch and lazed around the airport.
Sara and Blake
Collingwood Airport
The ride on the way back was a little more bumpy and Sara's stomach didn't appreciate it. My VOR tracking, on the other hand, was much better. As you can see by the red line: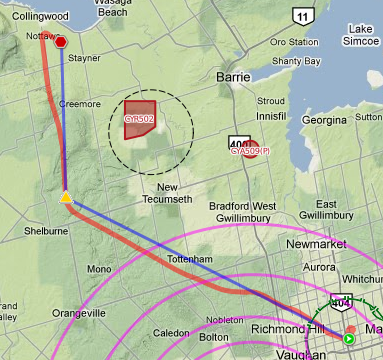 On my way back (ignore the start/end icons, they're wrong)
I turned too late after I passed over the VOR (on my way to Buttonville) because I was too busy trying to call up London Radio. I tried both 126.7 and and 123.15 to no avail. I wanted to file a priep (only ever done that once) but couldn't. Aww well.
I've been busy with World Flight Planner so I haven't been able to blog as much as I'd like. Work as well has been extremely busy with the upcoming G20 summit in Toronto and the FIFA World Cup. I do tweet regularly, so feel free to follow blakecrosby on Twitter!