Back in 2010 the airport was sold off to Caddilac Fairview to be redeveloped into commercial and residential spaces.
Thirteen years later (not far off from Mr. Sifton's ten year prediction) the official closing date of Nov 30, 2023 was announced.
I learned how to fly with Toronto Airways from that airport back in 2008 and as an aircraft owner it only seemed fitting to also hangar Plane Jane (my Piper Cherokee Six) there in 2020. So the big question myself and at least a hundred other aircraft owners is: "where's our new home going to be?".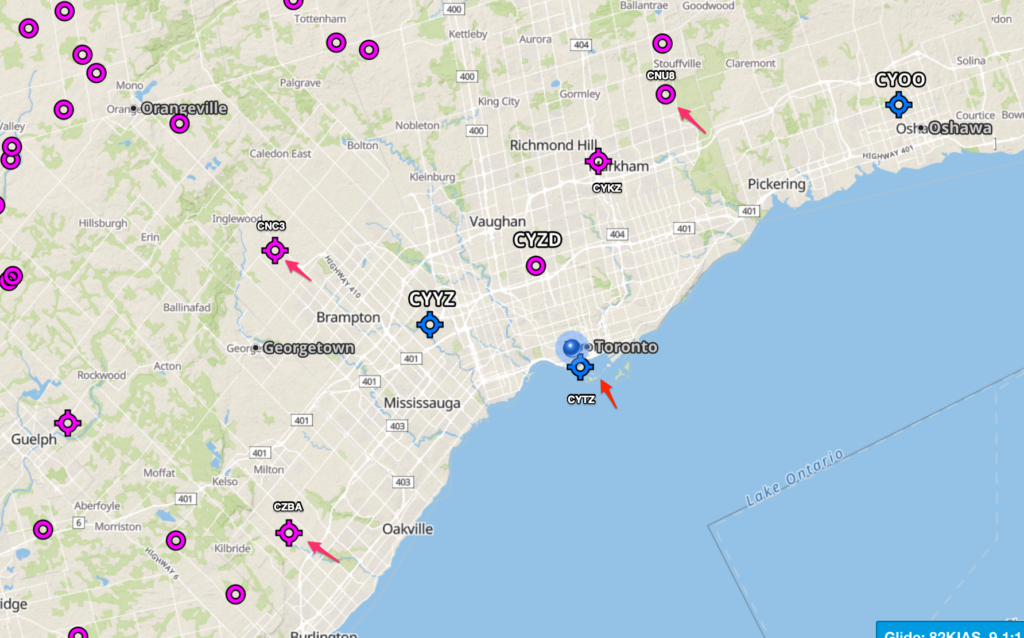 Some of the possible airports for Plane Jane's new home are marked with a red arrow. Not ideal considering how central Buttonville is to where I live. Lets take a look at the options in more detail:
Airport
Distance
Runways
Notes
Toronto Island (CYTZ)
3km
06-24 (2400′)
08-26 (4000′)
Expensive
Markham Airport (CNU8)
48km
09-27 (2000′)
No hangars
No IFR Approaches
Brampton Airport (CNC3)
55km
08-26 (2500′)
15-33 (3500′)
Very busy with flight school
Burlington Airport (CZBA)
55km
09-27 (2400′)
14-32 (3900′)
Runway needs repair
We can scratch Markham Airport off the list. Without available hangars to store Plane Jane and no IFR approaches to land at the airport in poor weather, it really isn't an option.
Not owning a car, the new airport should be close to public transit, which wont be the case for Brampton and Burlington. But there is hope if I combine a trip on a GO Train with an Uber ride:
| | | | | |
| --- | --- | --- | --- | --- |
| Airport | Travel Time | Transit Cost | Uber Cost | Total Round Trip |
| Toronto Island (CYTZ) | 10 minutes | $6.50 | $0 | $6.50 ($0 if I ride my bike) |
| Brampton (CNC3) | 1h30min | $17.30 | $50 | $67.30 |
| Burlington Airport (CZBA) | 1h20min | $18.60 | $45 | $63.60 |
Over the next few months I'll be putting my feelers out for hangar space at the above three airports. As it stands now Burlington has no space, and I can only afford the cost of an outdoor tie down at the Island Airport.
I have a feeling I will have to temporarily park Plane Jane at the island airport until another option becomes available. Stay Tuned.