A fellow aviator was asking me how to transit through Toronto (YYZ) airspace so that they could visit Buttonville (CYKZ) airport before it closes. Flying in and around Toronto for the past twenty years, I figured this would be a good time to put together a little how to for everyone else.
System Capacity
During busy times. There may not be enough controllers to allow VFR flights into the Class C airspace in and around Toronto. This usually happens during the weekends in the summer months. Be sure to check the NOTAMs for CYTZ and CZYZ during your flight planning and a hour before your flight departure as sometimes these pop-up last minute.

If you see the following NOTAM being active during your flight. You will have to stay below the class C shelfs around YYZ. However, you will still be able to transit through the YTZ Class C control zone if you decide to take the South Route. More on that below.
Routes
There are two main routes to travel VFR east/west through the downtown core.
North Route
The North Route has three east/west routes you can use:
Erin West (Entry: Lake Wilcox (VCWLZ). Exit: Erin (VCERN))
Aurora East (Entry: Alton (VCALT). Exit: Aurora (VCAUR))
Orangeville East (Entry: Newmarket (VCNMT). Exit Orangeville (VCORG))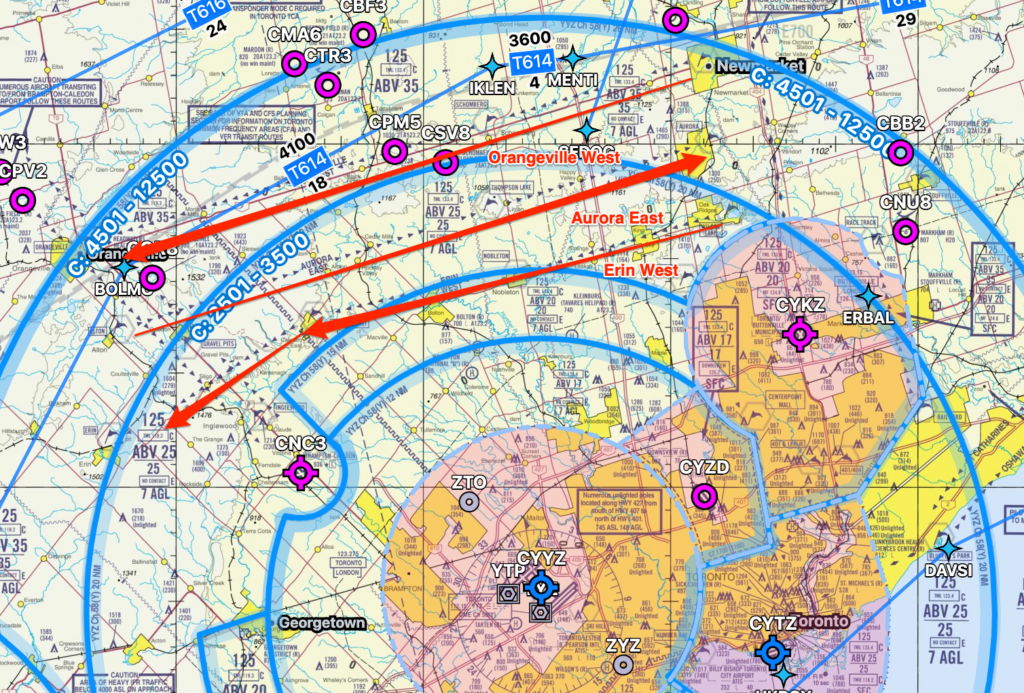 If you have to remain clear of class C airspace, fly at or below the following altitudes:
Erin West: 2500′
Aurora East: 2500′
Orangeville West: 4500′
Note: The Class C shelf over the Buttonville Control Zone starts at 2000′. So be sure to descend to 2000′ before entering the zone.
South Route
The south route has one route in each east/west direction, usually flown at 2000′:
Oshawa (Eastbound) (South of the shoreline)
St. Catharines (Westbound) (North of the shoreline)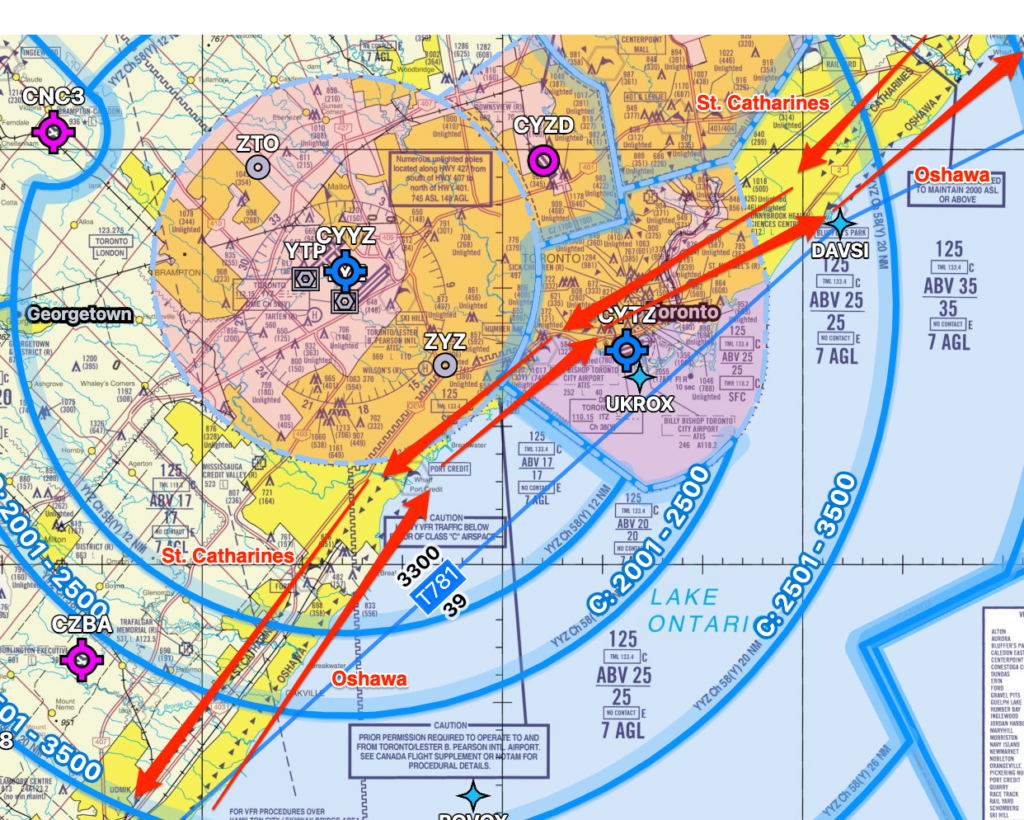 Note: Be sure to call up YTZ Tower on 118.2 at or before Port Credit (VCPCR) going eastbound or at or before Bluffers Park (VCBLF) going westbound to request permission to transit their zone.
VFR Flight Following
If there is no NOTAM that restricts you from entering Class C Airspace. Feel free to call up Toronto Terminal on:
West of YYZ: 119.3
East of YYZ: 133.4
And request Flight Following or entry into the Class C airspace. You will be given a squawk code and traffic services.
Landing/Departing Buttonville (CYKZ)
If you are arriving or departing at Buttonville, you will need to either head north (to the north route) or south (to the south route) before proceeding east/west. Please see this PDF put together by the Buttonville Flying Club for more information.
Arriving/Departing Via The North Route
Fly over highway 404. Northbound traffic west of the 404, southbound traffic east of the 404. From/To Lake Wilcox (Erin west route), Aurora (Aurora East route), or Newmarket (Orangeville West route).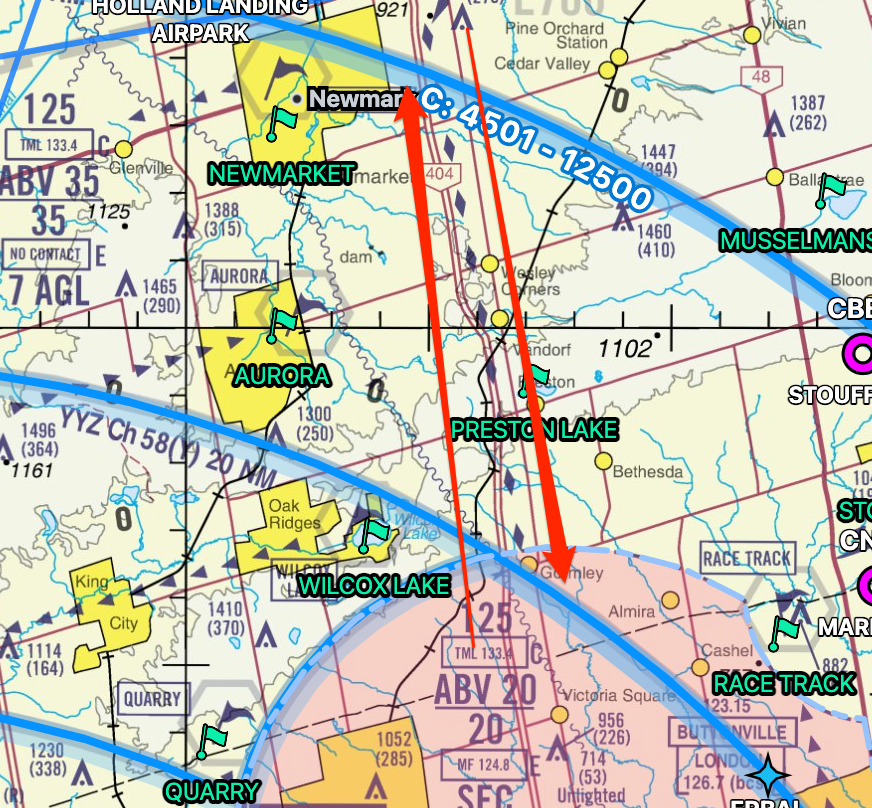 Arriving/Departing Via the South Route
Follow the 404. Northbound traffic east of the 404, southbound traffic west of the 404.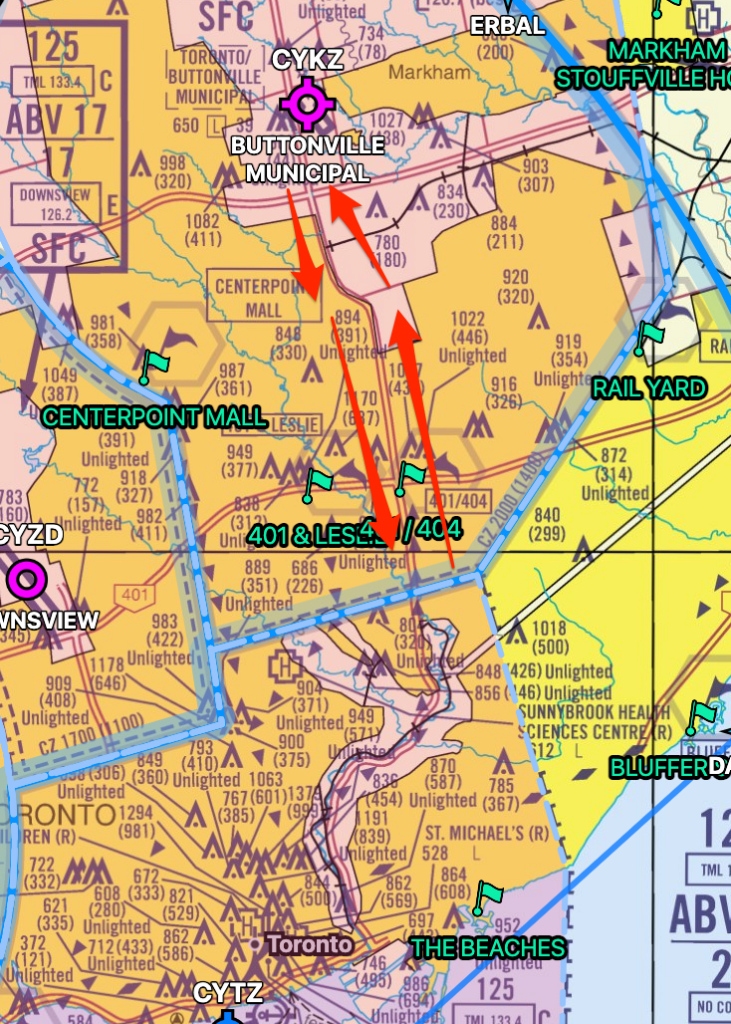 Note: Be sure to call up YTZ Tower on 118.2 at or before highways 401/404 (VCFOF) southbound or YKZ MF on 124.8 at or before highways 401/404 (VCFOF) northbound.
Let ATC Know
When you file your flight plan. Be sure to enter which route you will be taking in the flight plan notes section. "North route Aurora West" or "South route Oshawa east" for example.
For More Information
Be sure to check out the VTPC in the CFS for CYKZ and CYTZ. Additionally you can reach out to me on Twitter or send me an email.