You can buy aviation specific gps units for $500 and up. These can include features such as terrain alerts, weather radar overlay, and a database of air space, way points, intersections, etc..
There is an alternative though. You can spend $100 on a "cheaper" gps unit and pre-program it with your way points on a x-country trip, for example.
Some tools you will need:
– A GPS Unit (i'm using the Garmin eTrex Venture)
– GPX Aviation Waypoint Generator
– Ministry of Natural Resources Geographical Name lookup
– Latitude/Longitude Converter
– EasyGPS
Step 1: Get Your Waypoints
You can pre-populate your GPS with aeronautical way points from multiple sources. The GPX Waypoint Generator makes that easy. I selected the "Ontario" database and included all navaids including VFR navigation way points.
Step 2: Add Your Own Waypoints
The Ontario database only includes "official" way points located in the CFS. On my trip, I have additional way points. Mainly to avoid flying over water (Lake Simcoe). I was able to look up the town names on the Ministry of Natural Resources website.
I was using EasyGPS to manage my way points. The only downside is that EasyGPS uses lat/long values in decimal while the MNR website uses hour, minute, second notation. I had to use a converter to change the notation from one to another.
Step 3: Create Your Track
Once you have all of your way points in play, it's time to plot your track. Using EasyGPS, click on the "route" button and start connecting the dots!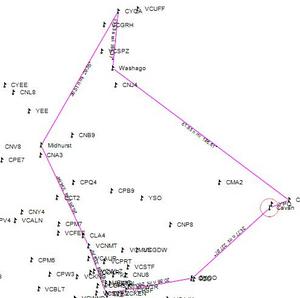 Step 4: Upload To Your GPS
Connect your GPS to the computer and click on the send button in EasyGPS
Step 5: Setup Your GPS
I personally find the navigation screen too cluttered with all of the way points. So I changed the settings to only show way points within 12nm from the pointer location.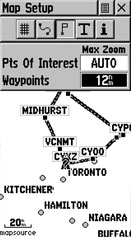 The other setting I changed was the "heading" information. By default (in my GPS) heading information is given in degrees true. Being in the southern domestic airspace, all my maps and navigation are done in degrees magnetic. Don't forget to put in the proper magnetic variation!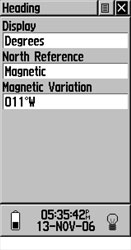 Step 6: Fly!
I haven't actually tested how well this works in the plane. However I did turn on the "demo mode" in the GPS and it "flew" the route at a blistering 20KTs.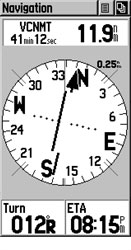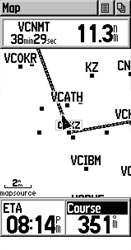 The GPS can be a powerful tool to let you know things like how far off course you are, your ETE, ETA, and how to correct your course.
One thing you have to be careful of though is that you don't "home" to your way points but rather proper technique to correct for wind. You can use the GPS and the various track correction methods (double angle, etc..) to stay on course. Using the navigation page (the compass page) on the GPS will help you do that.