Most big planes use an ILS approach. An ILS approach does not involve looking out the window at all, you just follow your instruments all the way down to the runway.
One of the downfalls of ILS approaches is that you cannot create "curved" paths to the runway. This means that you must have a straight line in and down to the runway. The MLS system was designed to fix this "flaw" but is not used at most airports (and most planes don't have the MLS equipment on board).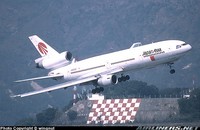 The best way to get around this problem is to use a visual approach. This relies on the pilot to hand fly the plane to the runway. One of the most famous visual approaches was at Kai Tak airport in Hong Kong (before it was closed). It was known as the "checkerboard" approach. This is because you are supposed to turn to the runway as soon as you saw the big checkerboard, check out the video on youtube.
The image to the left is a plane performing the IGS 13 approach into Kai Tak.
JFK has a visual approach, it's called the Carnarsie Approach (named because of the New York Suburb the VOR is located in). A series of "lead in lights" direct you to the path you need to take in order to get to the runway. The reason for this approach is for noise abatement and it keeps the planes over the water as they land.
You can see a video of a British Airways plane landing at night using this approach. As well, if you can read 'em, the approach plate is also available.
I have been doing nothing but visual approaches every time I land. This will change though, when I start learning all about IFR flying.