My second flight as a licenced pilot took me to Stanhope/Haliburton airport (CND4) with a friend who has a cottage up there.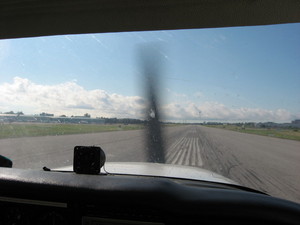 Departing Runway 15
We departed Buttonville at about 8:45 and headed up the 404 to Newmarket (my set heading point) direct to Haliburton. The weather was great, light winds and great visibility.
The flight up was uneventful and we enjoyed the smooth ride. The winds at CND4 were coming out of the south/south west according to the Unicom guy so I planned for runway 27.
This is where things got interesting. As I was on the downwind, I heard on the radio that a plane was backtracking down the runway for takeoff on 27. As I was on final, he lined up to take off. I was preparing to overshoot when on short final he saw me and decided to haul ass into the holding bay. As I was rolling down the runway after one of the worst landings ever, he apologized and explained that he had his radio volume turned down.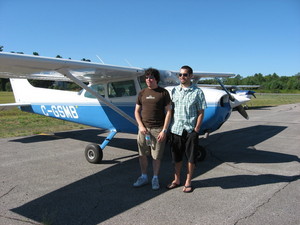 Just after arriving at CND4
We parked the plane and headed to my friends cottage for breakfast. His mom made some tasty eggs and back bacon. We chatted about the flight and the airport before heading out on to the water.
We went for a spin in a 115hp motor boat when:
*engine sputters and dies*
Friend: "uhmm.. this is not good, because I'm not doing that!"
Turns out we ran out of gas on the middle of Maple Lake. We needed to head back to the airport in about 20 minutes in order to head back to Buttonville. We fired up the 10hp trawling engine and putt-putted back to the cottage.
The ride back was bumpier, even at 4500′, mainly due to daytime heating as the winds were still on the calm side. We got back just before 1pm.
All in all, it was a great way to spend a summer Sunday morning.
You can see more photos in the gallery.