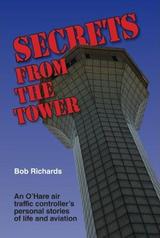 Title: Secrets From The Tower
Author: Bob Richards
ISBN: 097871139
Size: 357 Pages
Rating: 4.5 out of 5.
I discovered this book on the LiveATC.net forums and decided to give it a read.
Some people were ordering the book from Amazon.com, while others from the authors site directly at bobrichardsbooks.com. I ordered it at bobrichardsbooks.com and it arrived about a week later.
This autobiography starts off at the authors childhood and it is necessary to talk about it has he references events that happen early on in his life later on in the book. One of the main reasons why I couldn't put the book down was because it was actually funny. I can relate well with the sense of humour the author uses on a day to day basis.
The book actually opened my eyes up to how things used to be… during the hay-days of aviation. He would talk about days where he would bring his kids up into the tower, or play practical jokes on his fellow co-workers. Working at O'Hare was a fun experience and the author portrayed this experience well in print.
Music played an important part in his life and this is also shown in his numerous references to song lyrics peppered throughout the novel. In most cases I just skipped over reading them, only because I was too impatient and wanted to read what was next.
Without giving too much away, the author describes experiences of meeting Bill Clinton, fixing a NHL hockey game, struggling with family life, and pissing off the military. For anyone who is interested in reading about the life of an interesting man or has curiosities about life as an air traffic controller in the US, this book is a definite read.
At the end the author describes at top ten list on ways of improving the current ATC system and make it better. I agree with most of the items on the list, lets hope the FAA does too.