It was great to be back in the air this past weekend. A cold front had passed through on Friday, bringing with it a high pressure system of nice dry air. This means some good flying weather!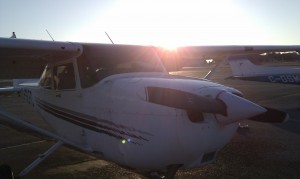 It was bumpy below 3000′ so I decided to keep the entire flight up at around 4000′. The winds were howling at around 25-30kts by my estimation. The GPS was showing a ground speed around 85Kts.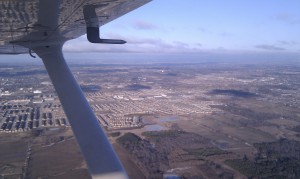 I didn't file a flight plan, and decided to stay close to home. It's been awhile since I've been "local north". This is one of the practice areas for the school, but today, the radios were quiet.
During my normal scan of the instruments, I noticed the fuel flow gauge acting up. It was working on the ground during my run up! Hmm. This is going to make calculating fuel flow a little difficult.
My wallet appreciates the 0 gal/hr. flow, but my common sense doesn't.
I headed up to Lake Simcoe Regional (CYLS) for a fly-over. I wasn't in the mood to land. Surprisingly I was able to pick out this airport pretty quickly. I usually have difficulty this time of year as everything is shades of brown and white.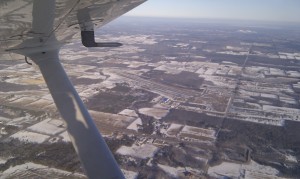 Coming in to land, I was number 2 behind a Baron. If I could afford to fly a twin, I think that'd be it. My next flight is set for mid-april.