The weather in southern Ontario on Christmas eve was perfect for a flight. Destination: Midland Ontario (CYEE).
My pre-flight planning was showing a 30 min ETA. I used World Flight Planner of course. It was handy having all the NOTAMs in one place, especially when they contained runway surface conditions.
I also used NavCanadas new internet flight plan filing service. Worked very well. Much better than their old system.
I had some radio problems on the apron. This particular airplane has a flakey radio stack and I could never get COM2 to work properly. I always make sure that the radio volume is turned up, but this wasn't the issue in this case. Switching to COM1 fixed the problem and I was able to get on my way.
The air was smooth and the visibility was more than 15 miles for sure.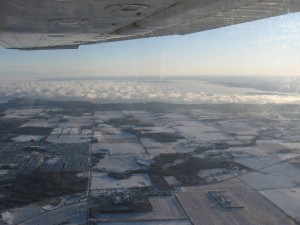 Just north of Barrie at 4500′ I was able to get a hold of London Radio on 126.7 to see if I could get an updated runway surface condition for the airport. As suspected it was the same one from the previous day that I had already seen (0.5 inches of loose snow).
I called up Midland Unicom and was surprised to get an answer back. Looks like the airport is open at 9am on Christmas Eve (they actually opened at 8am). I asked what the runway conditions were like and was glad to hear that there should be no problems.
I landed on runway 16 and parked my plane next to main terminal.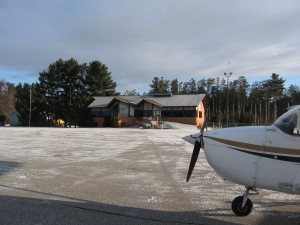 The route back took me at 3500′. I needed to update my ETA to Buttonville. I was not able to get ahold of the London FIC. This was just over the Midland VOR (YEE). I tried the London RCO at Buttonville on 123.15, no dice either. Hmm.. I busted open my VNC to see if I can find a frequency to use. Nothing. I took a look at the CFS for airports in the area, hoping to find a hint as to what frequency I should use. Couldn't find any.
So, I decided to try Timmins Radio. They have a RCO at Muskoka. Success! However, she said I needed to call up London Radio on 123.475. Hmm.. Never heard of that frequency before. Turns out it is the London FIC RCO at Muskoka. Dialed them up and updated my ETA.
I'm not sure why this was not located on my charts anywhere. A list of FISE frequencies can be found on the NavCanada website.
The winds were calm at Buttonville so I was given the option of runway 33 or 15. Runway 33 was the active, but 15 made more sense since I was coming in from the north. I elected for 15 and joined the left base for a perfect landing.
This is my last flight of 2011. This year was light on the logbook entries, totalling only 7.4 hours. I started changing that trend in the past two months as my goal is to fly once a month now.