It was Sunday afternoon when I decided to see if there was a plane available at 6pm. I called up the airport, and indeed there was!
So far, the new booking policy at TAL has paid off. For me specifically, I've been able to fly exactly when I wanted to without having to book months in advance.
I filed my flight plan for the following routing:
CYKZ YSO CYQA CYLS CYKZ
This would give us a round robin flight around Lake Simcoe
The flight was smooth above 4000′ and hazy, but still perfect conditions with not a single cloud in the sky.
My passenger had packed a dinner ("pic-nick in the sky") for us to enjoy on the way up. Right after changing heading as we passed the Simcoe VOR she busted out the sandwiches.
As we approached the Muskoka airport I dialed up Timmins radio and gave them a call. Nobody else was anywhere near the airport so I elected for a straight in downwind for runway 18. The winds were calm enough (3 knots or so) that I could have elected for runway 36 which would have been a sweet straight-in final. However that meant having to turn around once airborne to head south for my heading back home.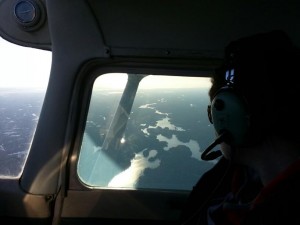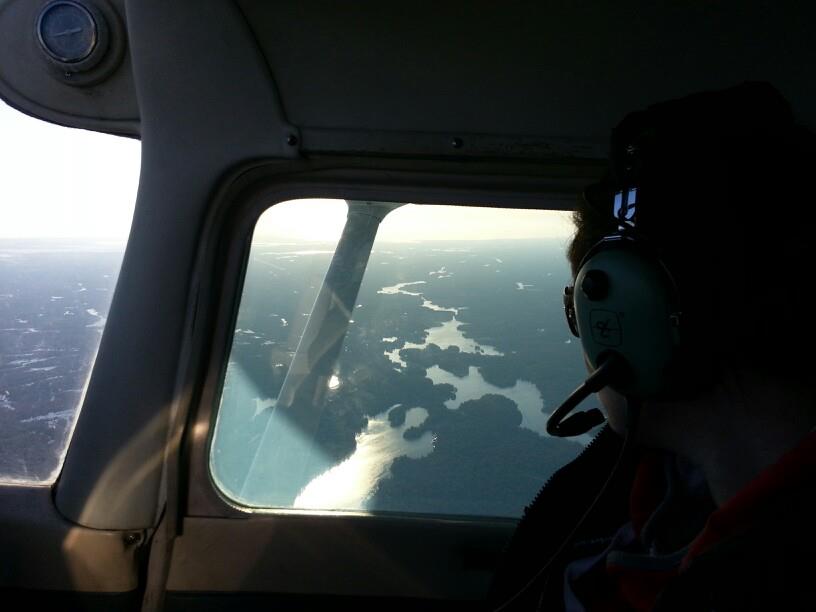 Turning base leg was annoying as it was directly in the sun (see Flicker Vertigo).
The touch and go was uneventful and we departed south-west bound for Lake Simcoe airport (my next waypoint).
Traffic was busier around here. I heard "Air2" hovering over Leslie St. at 1900′. Air2 is (I think) the York Region Police helicopter. Two flights were doing upper air work on the east side of Cooks Bay. However, the most annoying call was a 172 also on their way back to Buttonville.
This particular pilot was giving vague position reports at 3000′. After hearing a few of his calls I deduced that he was either right behind me, or under me. To keep things safe, I decided to stay at 3500′ for as long as possible.
I report "over the 404 and green lane". The other aircraft reports "over the 404". He had been following me all the way from Barrie.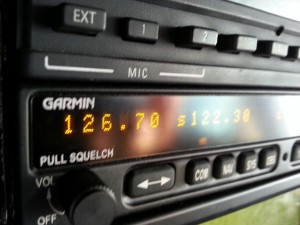 As we make our way south, he reports that he's down to 2000′. So I head down to 2400′ (gotta stay under Pearsons class C shelf at 2500′) and give Buttonville tower a call.
The controller gives me the option of proceeding to Victoria Square or Lake Wilcox. I opt for Lake Wilcox as that will set me up for a nice straight in final for 15.
I immediately make a right turn and proceed direct to the lake. I felt much comfortable now knowing that I'm not heading in the same direction as my fellow pilot behind me.
Get the aircraft set up in the landing configuration and report a 3 mile final. I get cleared to land and grease the landing. My passenger applauds and we head back to the main apron.
It's nice to be back in the air.