My flight on Friday went well. Got checked out in the Piper Archer which involves doing some upper airwork (including my first emergency decent), different landings etc.. We also did some instrument work in order to get the necessary time for my Night Rating. Flew up to Simcoe VOR then to Oshawa and back to Buttonville. All in all, a 1.4 hour flight in a new plane I never flown before.
Damn! These things are so much easier to land than the 172s. I really, really, really like the Warrior/Archer better.
We had to extend our downwind leg pretty far, I turned base at about 3.5DME from the airport and was number 5.
Because I got the needed instrument time on this flight, there was no need to book my instructor on Sunday for a flight. So I decided to ditch her and bring my girlfriend up. The weather was kinda crappy, low overcast ceiling. It was still high enough, however, to do a tour of the city.
We departed and headed south. There was another '72 behind me doing the same thing. City centre assigned me 2000′ and the other guy 2200′. I asked if they had a preference for right hand or left hand orbits around the CN Tower – they didn't care.
Melissa really didn't like me doing right hand turns: "Don't make the wing go down on my side!" she would say.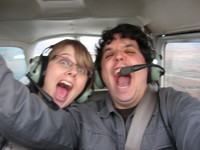 I was impressed at her ability to pick out landmarks from the air. I just told her were University Ave. was and she was able to pick out where she worked, and all the other hospitals near by. This was the first time that I actually noticed the heli-pads on top of the hospitals.
We did two turns around the CN Tower and departed to the east to Bluffers Park, then headed north east to scoot around Buttonvilles control zone then entered in from the east over the Markham water tower (a VFR reporting point).
On Monday night, I was able to get 1.2 of the needed 2.0 hours for my night rating. It was all done doing circuits, again, because of the weather. Man was it busy! Most of my downwinds were extended. At one point there was 4 to land on 33, and number 5 was a medevac chopper landing on 03.
I was able to keep separated from the other traffic in the circuit. I found it a bit tricky to measure distances when all you're looking at is a bunch of flashing lights in front of you. At one point I was caught in the planes wake turbulence (or prop wash, or slipstream – whatever you want to call the turbulence a 172 makes) while on downwind. I at that point I decided to slow down a bit for spacing.
It's amazing how easy everything is when the winds are calm. Everyone behaved well in the circuit, and even though it was busy (a few overshoots by other planes), and the controller was stressed, it was still a lot of fun.