When you plan a flight, do you check the relevant NOTAMs? How do you know if they are important to you and your flight?
Did you know that if you cause a danger, incident, or accident because you didn't check the NOTAMS you can be "charged" under CAR 602.71?
A NOTAM, or Notice To Airmen, is a way for Air Traffic Controllers (and other entities) to deliver important and timley information to the pilot. A NOTAM can disseminate information to:
Notify pilots of an error in a publication. In this case, the information in AIC 19/11 is incorrect. The frequency should read MHZ instead of KHZ. (vice is latin for "in place of")
 AMEND AIC 19/11 FREQ TO READ: MHZ VICE KHZ
Let you know that a particular NDB is out of service:
ENDERBY NDB 350 U/S
Activate a particular piece of restricted airspace:
 CYR-160 WILLIAMS LAKE ACT SFC TO 10000 FT MSL DLY 0200-1100
Or to turn off (deactivate) a piece of restricted airspace:
 CYR-229 SUFFIELD DEACTIVATED FL200 AND ABV
Inform pilots that a VOR may have been rotated to update its radials to match the current magnetic headings:
FORT SMITH VOR 112.4 ROTATION, ADD 4 DEG TO ALL PUB ENROUTE RDL ASSOCIATED WITH YSM. 
SPECIFIC RDL ISSUED BY ATC SHALL BE ADHERED TO AS PER RECEIVED AND ACKNOWLEDGED CLEARANCE
Make sure you look out for that tower that is now not lit at night:
OBST LGT U/S TOWER 493921N 955405W (HADASHVILLE, APRX 31 NM ENE STEINBACK(SOUTH) AD)
449 FT AGL 1429 MSL
These are just some of the examples I found today. As you can see they contain very important information that could be relevant to your flight. So, how do you go about finding out which ones are relevant to you?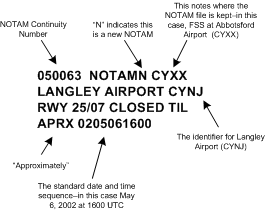 First thing's first: Look up NOTAMs for your departure, enroute, alternate, and destination aerodromes. Say I was planning a flight to Goderich (CYGD). I would have to make sure I had enough fuel to make it back, because according to this NOTAM they wont have any until October 31st.
110046 CYGD GODERICH
  CYGD FUEL NOT AVBL
1110111301 TIL 1110311600
Next, take a look at the FIR NOTAM file for the Flight Information Region you will be flying in. This will contain information on items like navaids, obstructions, procedures, and service limitations. I have to watch for humans with parachutes in Cookstown today from 13:00 to 23:30:
111173 CZYZ TORONTO FIR
  CYA- 509(P) COOKSTOWN ACT SFC TO 4500 FT MSL
1110141300 TIL 1110142330
Thankfully my flight takes me above the area at 5500′, so I'm safe.
And finally, take a look at the National NOTAM file (CYHQ) for any other item that affects the entire country.
All of the NOTAMs can be retrieved from AWWS or by calling your local Flight Service Station (FSS). If you are having a tough time deciphering the contractions used (do you know what HJ means? "daylight hours"!) you can look them up from the NOTAM Manual.
Another great tool, is the ourairports.com NOTAM RSS feed. Unofficial source of course, so be sure to double check from the official source before wheels up.
The AIM also has detailed information about NOTAMs in MAP 5.0.