Today's lesson was awesome!
On the advice of my instructor I had reviewed the procedures for landing at an uncontrolled airport before my lesson. Mind you this was at 6am this morning.
We hopped in the plane and did a diversion from Claremont to Greenbank airport. The idea being that we are going to land at Greenbank – a grass strip. Of course when it came time I totally forgot what calls I need to make when.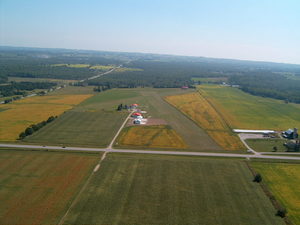 My FI asked me which runway we were going to land on. I took a look at the CFS and picked 34. Why? Well the ATIS for Buttonville said light and variable winds… so it wasn't because of the wind direction. It was just the longest runway that happened to be on the side of the airport I was flying to. The plan was to do an inspection (low and over) to make sure the field was good to land on (since there was nobody down there to tell us).
So we crossed overhead the field to the inactive side of the runway, turned around, descended to circuit height joined the left downwind, did the low and over, climbed back up to circuit altitude did the normal circuit routine and landed. All of the soft field landing practice payed off.
I then backtracked down the runway and did a soft field take off. That was flawless as well.
This airport was awesome! The owner has his house right on the field. And he has the runway edges marked with pylons with little lights on top of them. I would love to land here at night one day.
On the way back we did a diversion to musslemans lake, then on to Buttonville.
I actually got complimented on my landing by my FI… sweeet.
So I need to review my uncontrolled airport radio calls. As well, I've been told to start thinking about writing the Transport Canada written portion of the Private Pilot's license test. I'm going to be studying for that over the next few weeks.